This 501(c)(3) nonprofit organization encourages monetary and other gifts as well as bequests that contribute to the Foundation's permanent endowment managed by the Arizona Community Foundation. The endowment generates annual funds, which directly impact our county and city library system by supporting special projects that make our "great" libraries even better. Please join your community in ensuring that our Coconino County/City of Flagstaff public libraries continue to thrive now and in the future.
The Library Foundation funded library projects totaling nearly $20,000 in the current year.  The Flagstaff Public Library Foundation Board solicits and reviews staff-generated proposals from all library branches each fall.  The Board awards all available monies based on the merits of the special projects, with input from the Friends of the Public Library and library administration.  Funds enhance library services such as the bookmobiles, youth and adult educational activities, and other needs not covered by the city-county budget. 

Donate to the Foundation:

Donate by check:  
Send a check payable to: Flagstaff Public Library Foundation, Flagstaff City-County Public Library, 300 West Aspen Ave., Flagstaff, AZ 86001.
Should you have questions or wish to discuss a planned gift or donations other than monetary, please contact the library director at (928) 213-2338 or Linda Tillson at ltillson@flagstaffpubliclibrary.org.
The Flagstaff Public Library Foundation Board deeply appreciates your gift in the spirit of enriching lives and strengthening our region. 

All donations are deductible in accordance with current tax law.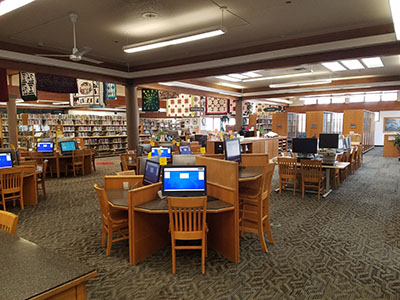 Foundation History
Founded on June 4, 1992, the Flagstaff Public Library Foundation supports and promotes a Permanent Endowment Fund, established to accept gifts and contributions for the long-term benefit of the Coconino County/City of Flagstaff public libraries.  The Foundation holds all endowment funds and gifts in perpetuity. The interest earned on the Fund is available to enhance library services.  The Foundation Board consists of between five and eleven members from the community.
Invested through the Arizona Community Foundation, the Flagstaff Public Library Foundation has been able to distribute, over the last five years, a total of more than $80,000 in interest revenue towards books, youth programs, and innovative projects. 

Comments from happy patrons:  

"I just moved into town and the Wi-Fi and computers have been essential to finding a job and place to live."

"Flagstaff libraries are beautiful and up to date, with facilities and technology.  There is something for everyone from those who love real books, need technology, enjoy the programs, to fun for children."

"Thank you for having free books and computers for people who can't afford their own.  It is a great place to hang out."

"Both locations are a wonderful set of facilities with outstanding and helpful staff."