Image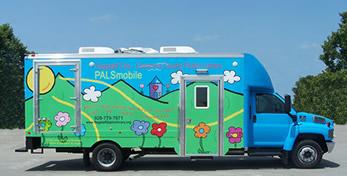 Flagstaff City-Coconino County Public Library is committed to enriching the literacy experience and development of children to promote School Readiness. The PALSmobile is an exciting part of our mission, focusing on children ages 2 - 5 years.
We visit child care centers, head starts, and preschool centers in Flagstaff. We also serve outlying areas in Coconino County including parts of the Navajo Nation. Aboard the PALSmobile children and parents can obtain library cards, check out books, learn about services and programs available through their public libraries, and enjoy a storytime presentation at their child care center.
We also provide resources for teachers, model storytimes, provide classroom materials and represent the library at school events.
For more information on the PALSmobile, or to renew materials or update your libary card, call 928-213-2396, or email jarcher@flagstaffpubliclibrary.org.
Please click here to see the PALSmobile schedule for 2023-2024.